Welcome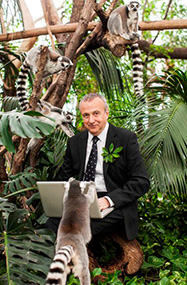 It is with great pleasure that the staff of the Budapest Zoo welcome you, participants of the EAZA Annual Conference in Budapest in September, 2014. We very much hope that your visit to Hungary will be memorable and the conference will provide you with opportunities to renew contacts and discuss issues of mutual interest with delegates from other countries. There will be the usual exciting programme of meetings, workshops and presentations on offer but as your host, our goal is to make this year's conference unforgettable. We promise to do so.
The 148 year old Budapest Zoo is the most popular cultural institution in Hungary with one million visitors a year. It is a destination of zoo heritage, with numerous century-old buildings, including two huge artificial mountains. One of them houses our largest exhibit, the unique Magic Mountain, an all-season interactive labyrinth of life. The animal collection boasts more than one thousand species and is one of the most diverse in Central and Eastern Europe. Breeding results have been excellent in recent years with successful births of Asiatic lion, Persian leopard, Amur tiger, Indian elephant, gorilla, orang-utan, wombat, and Hyacinth macaw, just to name a few. Highlights include the many invertebrate and aquatic exhibits, the America Tropicana, Australia and African Savannah areas, and the House of Venom.
The conference venue, Hilton Budapest Hotel is situated in the UNESCO World Heritage site Castle District of Buda, a site that began as a 13th century Dominican Monastery, with a beautiful panorama of the majestic Danube River. Budapest is famous not only for monuments that reflect its own 2,000-year-old history but also for its vibrant and diverse cultural life. There is much on offer: museums and galleries, theatres and operas, concert halls and baths, cafe houses, pubs, dance clubs and jazz bars plus many festivals and events. The new generation of entertainment is represented by 'ruin pubs'; open late and featuring live music and retro decor, a visit to one of these charming establishments is a required Budapest experience.
A wide range of accommodation is available to you, our guests. We have also planned several evening programmes and pre/post-conference activities to encourage you to visit the amazing sites of Budapest, including the incredible thermal baths (don't forget your swimsuit!), the bustling nightlife of the city, and the great natural wonders of Hungarian national parks. Excellent local food, marvellous vines and spirits, and the famous Hungarian spirit "palinka", all are waiting for you in Budapest.
Come and join us at next EAZA Annual Meeting 24-27 September 2014, hosted by Budapest Zoo and Botanical Garden!
LOOKING FORWARD TO SEEING YOU IN BUDAPEST!
Prof. Dr. Miklós Persányi,
General Director of Budapest Zoo and Botanical Garden